Shariah Larcher and I sit on Khao San Road in the Sawadee Terrace, drinking an evening libation as trendy backpackers enjoy the Bangkok night. He is a yong Brit film maker whose debut film, Baseline is enjoying a well deserved victory at several film festivals world wide. Baseline has won best director and film at the 2010 New York  City International Film Festival. Brendan O Loughlin was again awarded best director at the First Glance Film Festival in Philadelphia.
Larcher comes from Hackney in the East End of London. It poduced such diverse luminaries as the  notorious East End crime family the Kray twins, and the poet-playwright-dramatist-actor Harold Pinter. Shariah grew up on Reighton Road E5, a blue collar neighborhood.
Shariah drinks a beer and ruminates on his East End upbringing. " Growing up in Hackney gave me a real feel for culture. I studied drama at Central School of Speech and Drama, with my best mate Freddie Connor, who is the lead actor in Baeline. I also studied dance ie. ballet, tap, jazz at an early age from 12 on. This gave me discipline. Baseline gave me he ability to pursue my talents and ambitions as an actor, screen writer and producer."
Baseline is a gritty urban drama set in the streets and night clubs of the East End. Danny  aka Conor is a bloke introduced into a world of alcohol, drugs and crime he is not cut out for. Zoe Tapper portrays Jessica the romantic object of his attentions.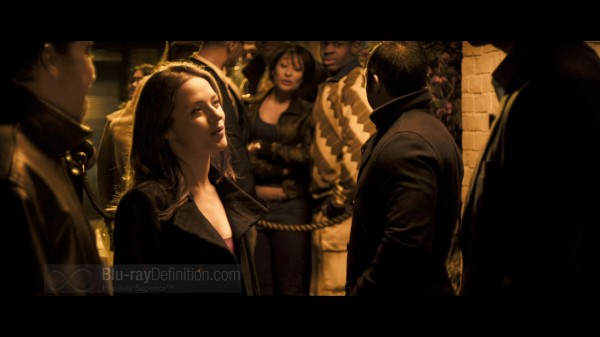 Dexter Fletcher is the right hand man of Jamie Foreman , the local East End crime boss. Gemma Atkinson is the innocent and idealistic love interest of Gordon Alexander who portrays  Paul, Dannys childhood chum.
Gary Stretch, former glamour boy of English boxing, once the WBC Light Middleweigh Boxing champion portrays Rob, a crime boss of South London. Stretch plays against his usual tall, dark, handsome persona in a performance that lights up the screen. He is still rememberd in the U.K. for his fight against Chris Eubanks. The fight was billed as The Beauty vs The Beast. Stretch lost to Eubanks in 6 rounds, but his gritty and heroic performance captured the attention of U.K fight fans. Stretch was also a memorable Cletius in Olivr Stones epic , Alexander. I had the privilege of working with Stretch in, The Kingmaker. shot on location in Thailand by the venerable renaissance  man,film maker, David Winters.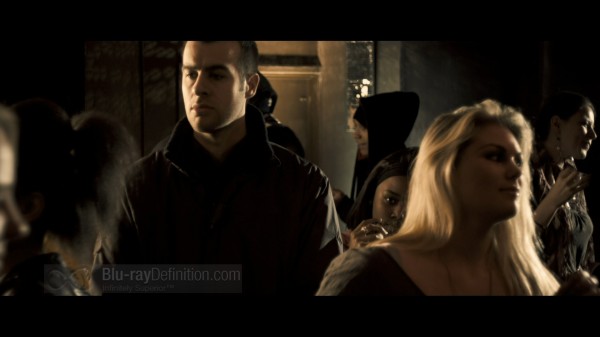 Shariah Larcher plays Sean, the drugs dealing enforcer of Jamie Foremans crew. Sean cuts a rugged figure wih his shaven head, pumped up physique and pugnacious character. He also co-wrote and served as co- producer. The project was 3 years in the making. It was shot on a low budget in the streets and night clubs of London. The film explores themes of friendship, betrayal, love, alienation and violence. Audiences have responded to distribution of the film. Fine Light Films is poised to follow up the success of Baseline, with a motion picture in development entitled Amsterdam . It will be shot in London and Amsterdam. The writer is from Hollywood, Clark Childers, currently writing on a film project for Bruce Willis ex wife Demi Moore.
Larcher is staying in a cosy guest house in the hood, in order to sample the delights on the street and atmosphere of this most bohemian sector of Bangkok. He loves Thailand and comes here several times a year in between film projects. He is an Arsenal supporter, and follows the Gunners exploits wherever he is. Shariah is optimistic about the England team, and hopes Jack Wilshire and the new breed of Arsenal players like Theo Walcott can enable Britain to make an impession for the European Championships. He will leave Bangkok soon to enjoy island life.
Larcher waxes eloquent on idyllic island life in Thailand." I love the island life. The sun, sea and sand, beautiful women and great sea food not to mention the fantastic party life. I have many friends who own bars, pubs and discos on Ko Pi Pi and Koh Phangan. I would like  to shoot a movie here in Thailand. All the ingredients are here for a great film. It is exotic, picturesque and the people are great looking and friendly. I am thinking of developing a script with my best mate, alhough at the moment my lips are sealed about the content."
He grew up with the films of Martin Scorsese, and his favourite is, Goodfellows. He is an admirer of Marlon Brando, De Niro and Pacino. Sanford Meisner, who was one of the primal forces in he philosophy of Method Acting is his template as an inpiration and guiding force. The Method symbolizes to him and many young Brits the pinnacle of The Golden Age of Hollywood. James Dean, Steve McQueen, Marilyn Monroe, Paul Newman, the grat actors in the tradition of the philosophy of Method as formulated by Stella Adler and Lee Strasberg fascinate him. British actors like Daniel Day Lewis, Michael Caine, Helen Mirren and Judy Dench were his favourites growing up in the U.K.
Dirctors like Danny Boyle, Alfred Hitchcock, Mike Leigh, and the director of Inception, Chris Nolan rank highi in his pantheon. Larcher loves the black and white Hitchcock dramas he saw in his youth. He reckons the suspense and classy screenplays the master craftsman introduced to cinema are still unsurpassed by modern cineastes. James Bond, 007, remains an inspiration , and he ranks Daniel Craig as equal to Sean Connery as a modern interpreter of  the spy who loved them and left them.
His ideal women in cinema are Kate Beckinsale, Scarlet Johanssen, and he has a fondness for secret agent 36-34-36 who was recently sent by Moscow to honey trap America, Valentina. He fancies Jessica Alba, but Kate Winslet and Vanessa Redgrave are his favourites as thespians who continue to fly the Union Jack high in promulgating British cinema as a high art form.
Baseline is available via Amazon.com on Dvd and Blue Ray.  It has finished its cinema run and can be seen on Pay for View and Video on Demand from Blockbusters Love Film and Virgin Tv. Baseline has been a labour of love and three brilliant but challenging years of his life. Everyone who has worked on it are immensely proud of what has been achieved. Keep your eyes out for the next installment in what promises to be the second in a classic British gangland trilogy, Amsterdam.
Link to The Baseline trailer